Elegant Style, Integrity and Simplicity…
Creation Tamarine is the curtain designer & manufacturer in Chiang Mai, Thailand with the reputation of providing quality workmanship and designs of Embroidered Curtains, Jacquard Curtains and Plain Curtains.
Creation Tamarine is a company that has been helping to transform the décor of homes and business in Thailand and abroad for over twenty years. Creation Tamarine is able offer to the market top quality custom-made window coverings at competitive prices.
Curtain Types & Styles...
Embroidered Curtains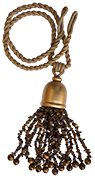 Creation Tamarine brings some classy and elegant embroidered window curtains for you. We provide embroidery on all types of plain curtain fabrics. Our in-house embroidery production enables us to provide customized service to suite the specific customer requirement unlike any other player in the market. Our embroidered window curtains are knitted on finest quality fabrics that are endurable and ensure the durability of embroidery. Different designs, colors, patterns and shades of embroidered window curtains are available with us that give you an option to choose the best according to your preference.
Creation Tamarine products are proudly manufactured right here in Thailand at our main custom-made curtain making facilities in Chiang Mai. Our long history in the industry allows us to negotiate very attractive deals with the major fabric houses and suppliers. We source the highest quality fabrics from some of the leading manufacturers. This means we can supply direct to you top quality window coverings at significant discounts to recommended retail prices.
If you are unsure of a style, a fabric or are just looking for some further inspiration, please contact us.